Your dog keeps yapping and yapping and nothing ever gets done. You've tried to discipline the dog or even put it in another room but he/she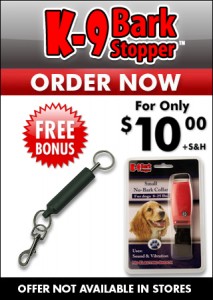 doesn't seem to understand to use their inside voice. Why not try something that is safe, harmless, and will keep your pet at bay and keep your house quiet and manageable. The K9 Bark Stopper collar is a ultrasonic vibration combination of discipline. It not only senses when your dog is barking but it vibrates and sets off a short ultrasonic alarm to quiet the animal effectively.
Forget trying to over power your dog with disciplinary techniques or training for hours, get the k9 bark off collar now and get results.
This concept has been done before but I don't think with the vibration. It sounds effective but then again none of those bark offs with ultrasonic sounds actually work. The reviews on most of this stuff aren't exactly grand. Sure, the dog won't like the ultrasonic sound but eventually the dog isn't going to care and it's better to traditionally train your animal to get real results. But, if you want to spend a tad of money to see if something like this works for you, then go for it. I'll give it a C+.